Best Live Cricket Streaming Apps for Android in 2022
Are you a die-hard cricket fan? If yes, then here are some best live cricket streaming apps for you that will help you watch your match across the world.
Cricket is one of the most popular and loved sports around the world, and people love to watch cricket and don't want to drop a single catch in a live match, especially when our favorite cricket team or players are playing on the pitch. However, it is not possible at all to sit in front of the TV to get all the live updates.
It is extremely hard for a cricket aficionado to watch the progress of their ideal team due to the difference in the time zone. Therefore, to help you out, we have brought up a list of 8 top-notch apps for live cricket streaming. All these apps keep you updated about Commentary, Expert analysis, Highlights, Predictions, and Ball by Ball. In short, cricket live streaming apps will cover everything related to the match.
A List of Best Live Cricket Streaming Apps for Android in 2022
Check out our detailed list of the best cricket live streaming apps in 2022 to watch cricket matches live online like ICC T20 World Cup, ICC ODI World Cup, IPL (Indian Premier League and other cricket events.
1. ESPN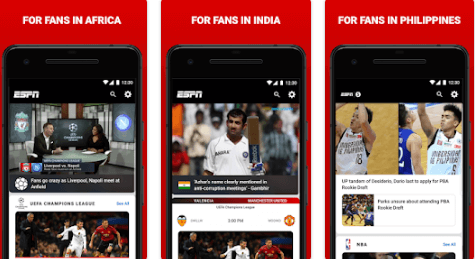 ESPN is one of the best sources to get live cricket news updates. It is the best sports brand providing thousands of live events, also here you'll get highlights, scores, and analysis. Moreover, the app allows you to access several channels like SEC Network, ESPN3, ESPN2, ESPNews, ESPN Deportes, ESPNU, ESPN, and Longhorn Network.
Plus, you'll get premium sports articles, exclusive originals, fantasy tools, and many more. All you need to do is, just download the ESPN app on your Android device, pick your favorite team and get the latest updates about them. Apart from cricket, ESPN is also popular for streaming the Fifa World Cup. The app provides up-to-the-minute sports news coverage, commentary, highlights, and scores for Cricket, Rugby, Football, Kabaddi, F1, and more.
Pros
Fast access to all sports updates.
Real-time notifications for desired teams.
Covers all the information about your team.
Easy-to-use and lightweight tool.
Cons
The free version comes with limited features.
The video frequently freezes during live matches.
Sometimes notifications take a long time to open or load.
Download Now
Also Read: Best Cartoon Streaming Sites
2. Willow TV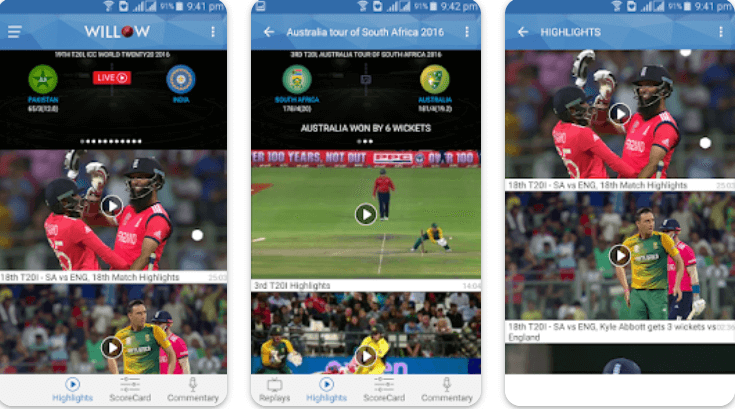 Watch all the top-tier cricket matches across the globe in HD quality on the Willow app. It is the only app that is dedicated to cricket in the US. The Willow TV can bring all the cricket actions to your fingertips. It is suitable for both Android and iPhone devices. Cricket admirers can enjoy live matches, incorporating interactive or frequently up-to-date scorecards and ball-by-ball commentary.
What's more, you can even set reminders for your favorite matches and also share them with your friends on social media. But, in order to get the best experience, you need to acquire Willow TV's monthly subscription.
Pros
Highlights and replays of matches are available.
You can even hide results and scores.
Sharing feature is available.
Live stream a cricket match on Chromecast.
Cons
Does not offer a free trial.
The free version shows a lot of ads.
Only users with paid versions can enjoy live cricket streaming.
Download Now
3. SLING TV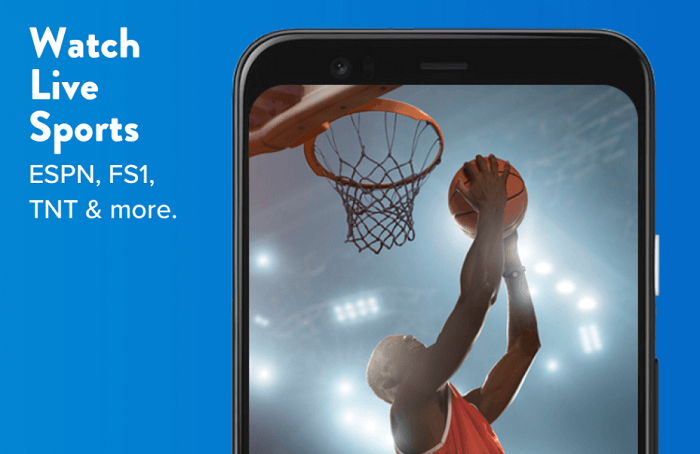 SLING TV is one of the best international streaming services that offer high-quality content and reliability. The app can be run on any device including Xbox, Smart TVs, Roku, smartphones, and desktops. And with more than 200 channels, it has everything you need, from live match updates to daily entertainment, kid shows, and more. With the SLING TV, you can get your DIY fix with HGTC and satisfy your cravings for new recipes on Food Network.
Download Now
4. SuperSport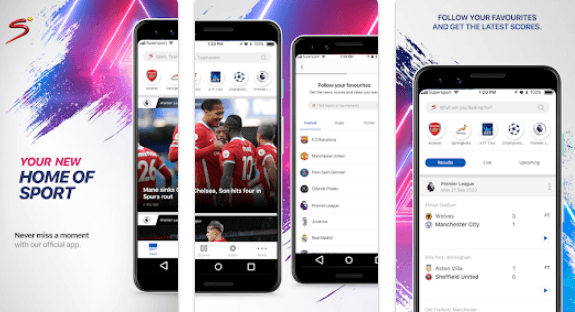 Here is the next best live cricket streaming app to get regular updates, highlights, schedules, live scores, and ball-by-ball commentary. SuperSport is designed to give you what you want from cricket or other sports and when you want it. In addition to cricket, SuperSport focuses on all popular sports like Football, Golf, Tennis, Motorsport, and Rugby. The app helps you track the progress of your team during a live match. Also, there's a special option called Reminder that gives you every single update.
Pros
A customization option is available.
Provides real-time updates.
Covers all international sports events.
Cons
Sometimes, video buffers.
The user interface is not friendly.
Download Now
Also Read: Best Putlocker Alternatives
5. SonyLIV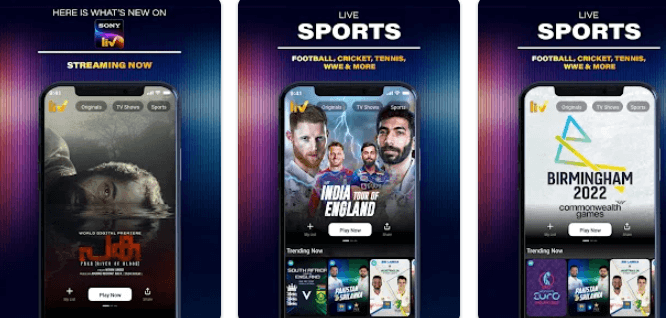 SonyLIV is another best live sports application but it is a geo-restricted streaming platform, so in order to use the app in other countries like the US, you need to use any reliable and best VPN service. The app might be your one-stop solution because it provides everything including Sports, Web Series, Movies, TV Shows, News Updates, and Live Cricket Streaming. If you want to enjoy endless entertainment, then SonlyLIV is all you need. The app is available for both Android and iOS devices.
Pros
A wide variety of genres are available including sports, music, movies, and more.
Simple interface and can be used without requiring any expert knowledge.
Streams Mixed Martial Arts Events.
Cons
No subtitles/captions are available.
No option to choose the appropriate video quality.
Download Now
6. Live Cricket TV HD – FREE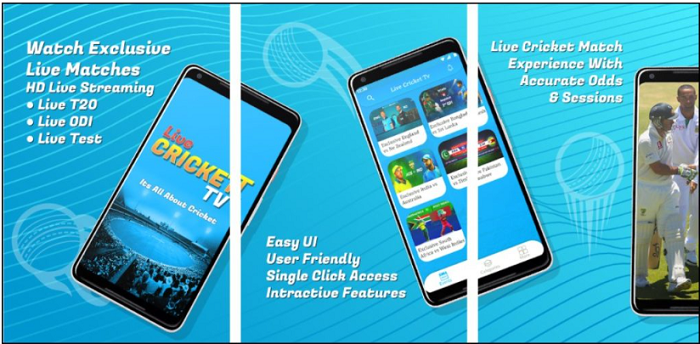 Developed by Sports Stream, Live Cricket TV HD is a completely free streaming service that is ready to entertain you no matter where you belong to. In order to get started, you only need a smartphone and an active internet connection. The application covers all the major cricket leagues like PSL, IPL, BBL, and ICC World Cup. It gives you a TV like cricket live video experience, simply download the app, launch it on your preferred device, and there you are good to go.
Pros
HD quality live streaming for free.
No video buffering problems.
Quick and easy access to cricket and other sports as well.
Cons
The app doesn't work as expected on mobile data. That means you will need to make a switch to Wi-Fi to run the application smoothly and effectively.
There is no option to connect the app to the TV in order to enjoy live cricket on the big screens.
Download Now
Also Read: Best Free Sports Streaming Sites
7. Cricket Australia Live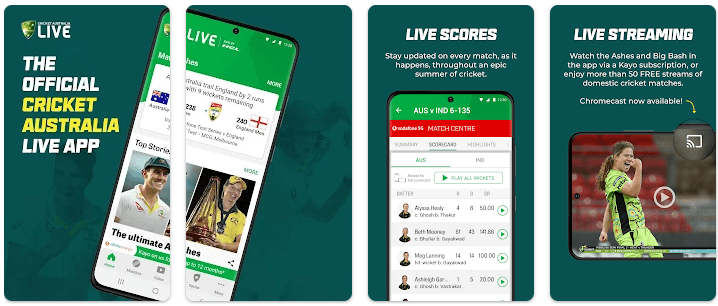 This is an official cricket live streaming app of Cricket Australia with over 1 million downloads. It can be run on both Android and iOS devices. With Cricket Australia Live, you can watch all domestic and international matches in Australia. However, if you want to use the app in other nations, then you need to use the best free VPN service. Apart from that, it also has a live radio feature, incorporating live cricket matches, live updates, highlights, analytics, and commentary.
Pros
Gives you highlights, ball-by-ball commentary, and live score updates.
Live radio feature.
Provides exclusive cricket news from across the globe.
Ad-free application.
Cons
Can't connect the app with your TV.
Users often face login issues.
No dark theme is available.
8. OSN Play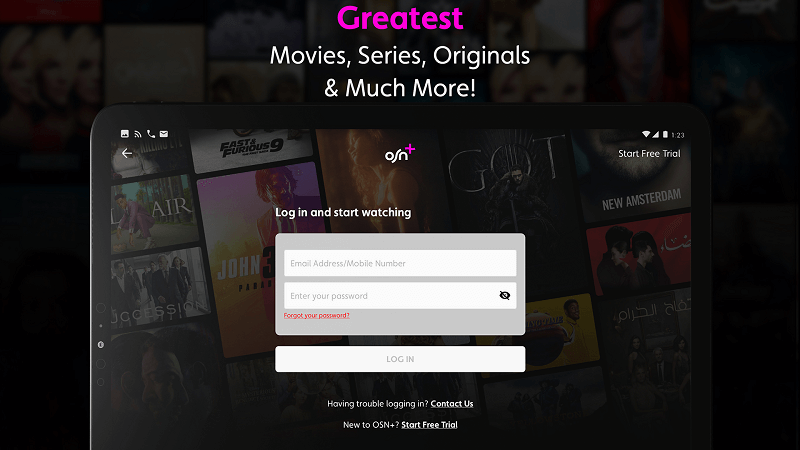 Last but not least, OSN Play is also the best live cricket streaming app that you can consider to enjoy the matches of your team. By installing this application, you can watch your favorite team's match live from anywhere at any time.
This streaming service offers live streaming of all international and domestic cricket leagues like ICC World Cup, IPL, LPL, PSL, and more. Furthermore, you can also watch movies, web series, and other shows.
Pros
Provides a 7-day free trial.
Straightforward and lightweight tool.
Easy to understand interface.
Ad-free experience for subscribers.
Cons
Doesn't support 4k streaming quality.
Poor customer service.
Download Now
Also Read: Best Free Anime Streaming Apps
Live Cricket Streaming Apps for Android in 2022: Final Words
Nowadays, Cricket fever is at its peak and numerous cricket leagues are coming in a few months. Wherever you belong in the world, the above shared best live cricket streaming apps will help you enjoy your favorite matches and keep you updated with the scores or run chase. In addition, these apps provide you with all the latest updates and news related to upcoming cricket events.
We hope you find the article informative and helpful. Do tell us in the comments below if you have any queries or better suggestions. Are you interested in reading more useful guides? If yes, then do subscribe to our Newsletter. Plus, follow us on Facebook, Twitter, Instagram, and Pinterest.